A breve ricomincerà per me nuovamente il tormento dell'acquisto dell'arredo per la casa, perciò io e Mister C. stiamo cominciando a guardarci attorno, cercando uno stile che vesta bene il nostro futuro nido e che rispecchi i nostri gusti. Un architetto e un designer sono davvero difficili da mettere d'accordo. Quindi torna la rubrica "home sweet home", in cui vi mostrerò quello che mi piace per la casa.
Soon I'll will begin again to purchase new furniture for the house, as me and Mr. C. probably will move to a new flat in October. We are looking for a style that dress well the space we choose and that reflects our taste. An architect and a designer are really hard to come to an agreement. So the "home sweet home" is back, to share some ideas with you.
Sono iscritta già da un anno alla newsletter di houzz.com e perderei ore e ore a navigare alla ricerca di idee. Nella penultima c'era questo articolo e mi sono follemente innamorata di
questa casa
, eclettica e piena di pezzi d'arte e di design.
In particolare mi piace (mi è sempre piaciuta) l'idea, molto in voga oggi, di utilizzare sedie, di design e non, di modelli diversi ma nello stesso colore attorno al tavolo da pranzo. Qui vengono utilizzate la
Louis Ghost
e la
Masters
di Kartell, la
Eames plastic chair
di Vitra, la
Bertoia side chair
di Knoll e la
Chair One
di Magis.
I've suscribed one year ago the newsletter of houzz.com and I would lose hours and hours surfing looking for ideas. In the second to last there was this article and I am madly in love with this house, eclectic and full of pieces of art and design.
I particularly like (I've always liked) the idea, really up-to-date trend, using chairs, masterpiece or not doesn't matter, of different shape but same color around the dining table.
Here are used and the Masters of the Louis Ghost by Kartell, the Eames plastic chair by Vitra, the Bertoia side chair by Knoll and Chair One by Magis.
Si possono anche scegliere sedie affini per struttura generale, ma differenti nei dettagli, come per i traversi e gli schienali di queste 4 sedie.
You can also choose chairs linked by a similar overall structure, but different in details, as for the beams and backs of these 4 wooden chairs.
Un'altra soluzione, per chi ama il vintage, è quella di colorare le strutture di sedie diverse, magari recuperate, e di completarle con un rivestimento seduta uguale per tutte.
Another solution for those who love the vintage, is to color the structures of different chairs, maybe retrieved, and complete them with a cushion in same fabric for all the pieces.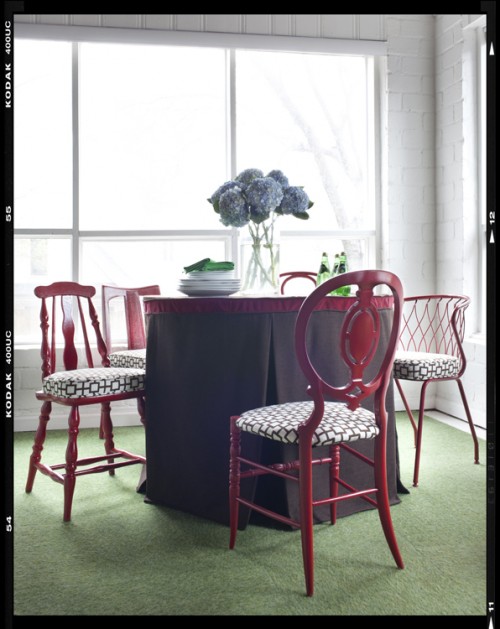 Un'idea per chi ha un tavolo lungo è quella di abbinare due panche a due sedie dal design importante posizionate a capotavola. In questa immagine al minimalismo di tutti gli arredi si contrappone la forma barocca delle poltrone nere.

An idea for those who have a long table is to combine two benches (on the long side) with two chairs with massive design positioned at the head. In this image the minimalism of all the furniture contrasts with the baroque design of black armchairs.
Allo stesso modo si possono sfruttare i posti di "testa" per inserire, in un insieme uniforme di sedie dello stesso modello e colore, due pezzi di colori diversi. La classica
Panton Chair
di Vitra si può avere in 4 colori diversi oltre a bianco e nero (l'originale), altrimenti sui siti che vendono arredi "inspired" si trova in innumerevoli varianti.
Similarly it's possible to use "head pleaces" to insert, in a uniform set of chairs, two pieces of a different color. The classic Panton Chair by Vitra is available in 4 different colors, in addition to black and white if you choose the original by Vitra, or you can find in a lot of colors more on sites that sell "inspired" forniture.
La nostra scelta al momento è orientata su un gruppo di sedie di design (tra l'altro presenti in una di queste foto) tutte uguali. Infatti il tavolo da pranzo sarà visibile dal corridoio d'ingresso, alle spalle del divano e davanti alla cucina, quindi non vogliamo creare ulteriore "confusione" aggiungendo troppi elementi diversi. Infatti questo gioco di contrasti funziona molto meglio quando il tavolo è protagonista della zona pranzo.
Our choice at the moment is oriented on a group of chairs (present in one of these pictures) in black or white. Looking to the project the dining table will be visible from the entrance hall, behind the sofa and in front of the kitchen, so we do not want to create further "confusion" by adding too many different elements. In fact, this game of contrasts works much better when the table is the one-and-only star of the dining area.