Da sempre ho pensato che una ragazza, per risultare affascinante e sexy, non deve rientrare in una determinata taglia, ma deve avere carattere e sapersi valorizzare. Insomma gli abiti non possono solo essere indossati, ma devono anche essere interpretati.
In questi giorni mi sono dilettata a cercare immagini della stupenda Crystal Renn. Ha un viso meraviglioso, espressivo e sensuale.
A voi piace?
I have always thought that a girl, in order to be charming and sexy, does not fall into a certain size, but must have character and know how to exploit. So clothes can not only be worn, but should be interpreted.
These days I 've lot of funny to find pictures of the beautiful Crystal Renn. Her face is beautiful, expressive and sensual.
Do you like her?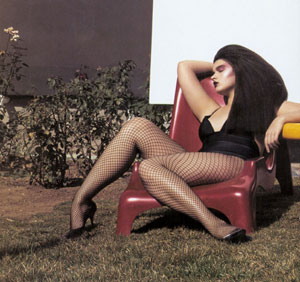 In queste foto, un servizio di V-Magazine, lo stesso outfit su di lei (dx) e su Jacquelyne Jabonski.
In these photos (editorial of V-Magazine), the same outfit on you (right) and Jacquelyn Jabonski.
Il punto: la sfilata di Mark Fast. Secondo me con questo abito, e con l'intimo sottostante, il suo fisico non è per nulla valorizzato. Anzi, direi che oltre ad essere troppo fasciata, il colore svilisce il suo bel viso.
E di questo rosso che dire? Il colore è meraviglioso, ma la vita segnata in questo modo è quanto di più antiestetico ci possa essere.
And what about this red dress? The color is wonderful, but waist marked in this way is as ugly can be.
Che ne pensate? Io trovo giusto portare in passerella ragazze di tutte le taglie, ma solo se vengono valorizzate.
What do you think? I'm think that is right bringing on the catwalk girls of all sizes, but only if they are valued.